Introduction
The Halliday Centre for Intelligent Applications of Language Studies (HCLS) bears the name of the world-renowned linguist, Professor Michael Halliday. It was officially launched in March 2006 in his presence at City University of Hong Kong. The Centre has the distinct honour of being named after this distinguished scholar, who for over half a century enriched the discipline of linguistics with his keen insight into language. His scholarship has advanced our understanding of language as a social phenomenon of meaning, the accurate and contextually appropriate processing of which lies right at the core of human communication and computer understanding of natural language. The Centre Director is Dr Alex Fang, Department of Linguistics and Translation, who succeeded Professor Jonathan Webster, the founding director of the Centre, on 1 July 2021.
Vision & Mission
The Halliday Centre is motivated by Michael Halliday's insight into language as a social phenomenon that creates meaning and enables communication. It aims to advance human knowledge about language and to apply such knowledge to emergent technologies such as artificial intelligence where language understanding represents a key issue.
More specifically, the Centre is a research lab in human speech and language as multi-modal communicative behaviour. Its research activities are fundamentally based on large corpora of empirical data as sources of linguistic knowledge. It aims to develop scientific models of written discourse and spoken interaction and adapt them to intelligent systems that handle, for example, man-machine dialogue, knowledge extraction, and machine translation. It also specialises in the development of reusable language resources and interoperable annotation schemes in support of linguistically informed solutions.
The Centre strives to collaborate with a widest possible range of research centres and projects both locally and internationally. It offers training for research students and language professionals.
About Professor M.A.K. Halliday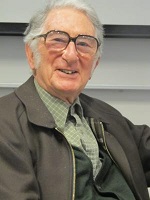 Professor Michael Alexander Kirkwood Halliday served as Advisor to the Halliday Centre from 2005 to 2018. As a significant contribution to language studies, he developed a theoretical approach known as 'systemic functional linguistics', incorporating a comprehensive model of grammar appliable to different languages. He also emphasised on theory as a resource for solving real-world problems (he called it an 'appliable' theory). As a result, his work has been of interest to a wide audience of those concerned with language in both theory and practice.
A Brief Biography
| | |
| --- | --- |
| 1925 | Born in Leeds, England |
| 1947 | Enrolled in Peking University |
| 1948 | External BA (Hons.) London University (Modern Chinese) |
| 1949 | Research student under Wang Li at Lingnan University, Guangzhou, China, doing dialect field work |
| 1955 | PhD studies at Cambridge under J.R. Firth; title of dissertation: "The Language of the Chinese Secret History of the Mongols" |
| 1963 - 1970 | University College London, Director of the Communication Research Centre |
| 1976 - 1987 | University of Sydney, Founding Professor of Linguistics |
| 1979 | Research Fellow, Australian Academy of the Humanities |
| 1981 | David H. Russell Award for distinguished Research in the Teaching of English, National Council of Teachers of English (USA) |
| 1986 | Lee Kuan Yew Distinguished Visitor, National University of Singapore |
| 1989 | Corresponding Member of the British Academy |
| 2002 | Inaugural recipient of the AILA Gold Medal Award for exemplary scholarship in the field of applied linguistics |
| 2003 | Distinguished Visiting Professor, Faculty of Education, The University of Hong Kong |
| 2005-2018 | Advisor, The Halliday Centre for Intelligent Applications of Language Studies, City University of Hong Kong |
| 2007 | Recipient of an honorary doctorate from the University of British Columbia in recognition of his contribution to linguistics, including especially educational linguistics |
| 2008 | Recipient of an honorary doctorate (Doctor of Education honoris causa) from The Hong Kong Institution of Education |
| 2012-2015 | Honorary Professor at the Department of Linguistics and Translation, City University of Hong Kong (CityU) |
| 2013-2018 | Advisor, The Functional Linguistics Institute, Sun Yat-sen University |
| 2018 | Deceased |